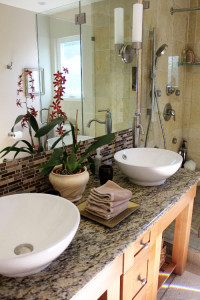 Squires Plumbing can project manage your renovation, we can manage other trades to assist with electrical and carpentry works and we ensure that all of our sub-contractors are licensed. Gas and heat pumps are offered by our partner company Gasmec Pty Ltd
Squires Plumbing are available to renovate your bathroom, kitchen or laundry.
Why not revive your seventies style bathroom, this could be as easy as putting in some new tapware and a modern vanity, or the entire bathroom can be renovated.
Give your kitchen a face-lift – install a new stainless steel sink with a modern look and modern flickmixers.
If you would like to discuss renovating your kitchen, bathroom or laundry, call Squires Plumbing . We are happy to provide a written quote, which will outline the costs involved with upgrading your kitchen, bathrooms, ensuite, toilets and yes, the laundry.
Planning bathroom or kitchen renovations? Excellent! Upgrading your bathroom and kitchen can be a great boost to both the value and liveability of your home. Before you get started, contact Squires Plumbing for invaluable advise on pipework, fixtures and fittings.
Our fully qualified plumbers are skilled in all areas of bathroom and kitchen renovation plumbing, and work well with other trades to ensure a smooth renovation from start to finish.
We can provide the following expertise:
Disconnection, repositioning & reconnection of all bathroom plumbing fittings and fixtures
Planning, scheduling and project management of all plumbing-related renovation tasks
Quick and efficient resolution of all bathroom renovation plumbing issues
Require a free quote? Contact us now.
Your renovation timetable is important to us
A renovation project can be a time-critical process, usually requiring coordination of several different tradespersons. Squires Plumbing's fully qualified plumbers are guaranteed to arrive on time every time, and carry all the right tools for practically every renovation project. So your renovation plumbing work gets done promptly and on schedule.
Plumbing fixtures and fittings
We can supply the fixtures and tapware for your renovation project or you can purchase these items yourself. It is a good idea to speak to Squires Plumbing about your project before purchasing anything as certain fittings will require less alteration to your existing pipework than others – saving you time and money.
Our suppliers Reece and Tradelink have an extensive range of fixtures and tapware that can be viewed online.
How long will the renovation take?
This depends on the complexity of the job and the other trades involved, but most renovations are completed in 5-30 days.
Once the quote has been approved, a typical bathroom or kitchen remodelling requires three visits by us:
First visit
Disconnection of all existing fixtures, in readiness for owner / tiler strip-out.
Second visit
Moving water and waste pipes into their new positions, installing a bath and any in-wall mixer taps, then mudding the walls and concreting the floor in readiness for the tilers' screed coat prior to water-proofing and tiling.
Where possible we prefer to have all plumbing fixtures and tapware on site during this visit to help with positioning.
Third visit
Once the room is tiled, we fit all other bathroom fixtures such as toilets, vanity, basins and showers. We always go the extra mile and install the best quality fittings, including mini-stop taps prior to mixer taps, which will help with future maintenance.
Variations of the above steps can be tailored to your needs – just give us a call.
Contact Squires Plumbing for a free renovation plumbing quote
For many bathroom renovation projects within Hobart, we can commence work within 1 week of booking a job. For a quote and the best bathroom or kitchen renovation plumbing advice in Hobart give us a call.